The Accessibility Facts Label
Facilitating the marketing of accessible instructional materials through a voluntary labeling standard
Introducing the Accessibility Facts Portal and Label
Accessibility Facts, known as A11y Facts, is a system for disclosing accessibility features of digital textbooks and other electronic documents through a standardized label format. Similar to the nutrition facts label, A11y Facts provides important information about the accessibility for students with print-related disabilities.
A11y Facts labels are created by publishers, distributors, retailers, and other content providers through the A11y Facts Portal, an online application built by CAMI. Labels can be viewed in the Portal or displayed on vendor websites. The label consists of an accessibility statement, a detailed list of accessibility features, and known issues that would impact accessibility.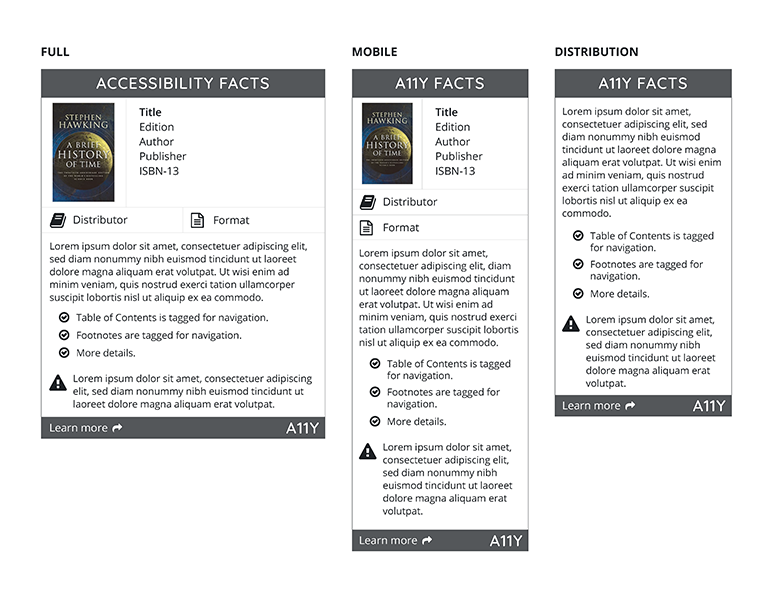 A11y Facts Beta Test
Beta testing and development of the A11y Facts Portal will continue with the support from the [link to task force page] through 2017, with expanded public beta testing and launch in 2018. Feedback from students, publishers, disability service office staff, and other stakeholders is being collected through focus groups, usability testing, conference presentations, and other settings.
Organizations currently participating in A11y Facts beta testing are:
Cengage Learning
Elsevier
Macmillian Learning
McGraw-Hill Education
OpenStax College
Pearson Education
RedShelf
VitalSource
W.W. Norton
Please contact us to learn more about A11y Facts and to be notified of upcoming opportunities to participate in testing.