National Task Force
Dedicated to the academic success of students with disabilities by integrating accessibility and innovation into instructional materials
Introducing the National Task Force on Instructional Materials Innovation
Members of the CAMI National Task Force on Accessible Instructional Materials come from leading publishing, instructional design, accessibility, and assistive technology companies and organizations to support the CAMI mission to improve access to postsecondary instructional materials.
The task force is providing vital input to the creation of a standardized document accessibility profile called the A11y Facts label. A11y is a short form of Accessibility. A11y Facts is an application for disclosing the accessibility features of digital textbooks and other electronic documents through a digital information label.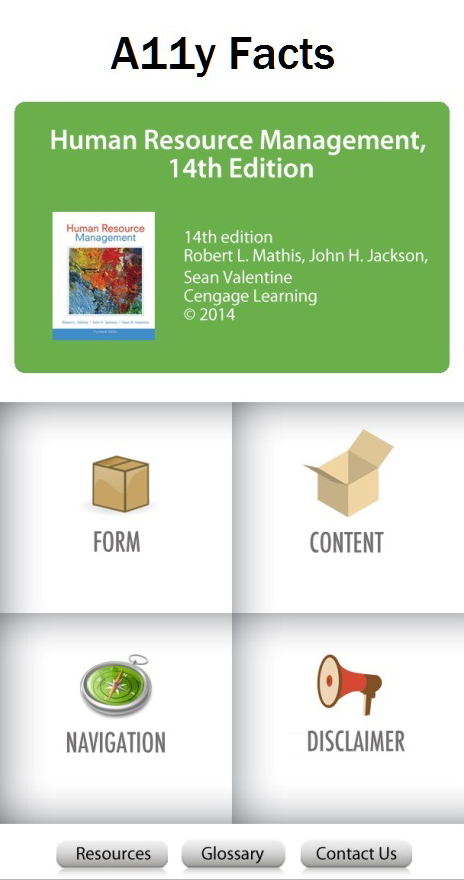 Similar to a nutrition label for packaged food, A11y Facts labels will be created from accessibility information provided by the publisher and already supported by ONIX, the international metadata standard used by the book industry. A11y Facts labels will be available through a web portal and accessible from computers, tablets, and mobile devices.
In addition to working on the A11y Facts label, task force members are charged with:
Providing higher education marketplace trends and resources around accessibility
Acting as an incubation group for higher-level discussion around CAMI's deliverables
Sharing information about CAMI with colleagues and throughout their fields
Further information on the task force, the A11y Facts label, and the progress of the overarching initiatives are located on the CAMI Wiki.
Some of the Organizations Represented on the Task Force