The Accessibility Facts Label
Exploring the marketing of accessible instructional materials through voluntary labeling of e-textbooks
Exploring the Disclosure of Accessibility Features
Accessibility Facts, known as A11y Facts, is a proposed system for disclosing accessibility features of digital textbooks and other electronic documents through a standardized label format. Similar to the nutrition facts label, A11y Facts would provide important information about the accessibility for students with print-related disabilities. In an equitable world, all students, including those with disabilities, would have the opportunity to purchase an accessible (digital) textbook in the same manner, locations and timeframe as they purchase print materials.
The proposed A11y Facts labels would be created by publishers, distributors, retailers, and other content providers through an online application or the publisher website. The proposed label consists of an accessibility statement, a detailed list of accessibility features, and known issues that would impact accessibility.
CAMI collaborated with publishers and distributors to explore the conceptual design and prototype stages of label developmentthrough 2017.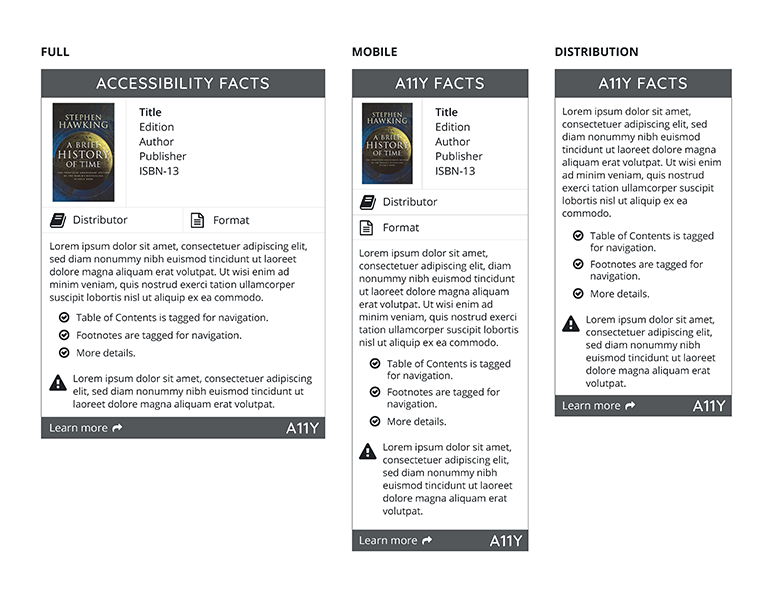 CAMI wishes to thank the following organizations for participating in the exploration of voluntary disclosure of accessibility features:
Cengage Learning
Elsevier
Macmillian Learning
McGraw-Hill Education
OpenStax College
Pearson Education
RedShelf
VitalSource
W.W. Norton
Please contact us to learn more about A11y Facts and to be notified of upcoming opportunities to participate in testing.